Perspectives Posted on 2023-02-27 15:02:48
Opinions and strategies
Building capacities for animal welfare
Animal welfare, a pillar of the Competency-based Training Framework of the World Organisation for Animal Health
A full competency package of the WOAH Training Framework will be dedicated to animal welfare, to strengthen Members' capacity to implement Section 7 of the Terrestrial Animal Health Code and the Aquatic Animal Health Code.
In 2017, the World Organisation for Animal Health (WOAH, founded as OIE) adopted its Global Animal Welfare Strategy (Fig.1 [A]). One of the Strategy's pillars is to focus on strengthening the capacities of Veterinary Services.
The first work plan created to put this into practice during 2022–2023 identifies and prioritises several capacity-building activities, which will be implemented at the regional level using regional instruments (a regional animal welfare strategy and work plan, the regional animal welfare platform for Europe (Fig.1 [A])). The WOAH Collaborating Centres on Animal Welfare (Fig.1 [A]), which have recently formed a global network, will be strongly involved in these activities to provide increased support to WOAH Members and promote the spread of animal welfare concepts, as well as to implement WOAH standards within each country.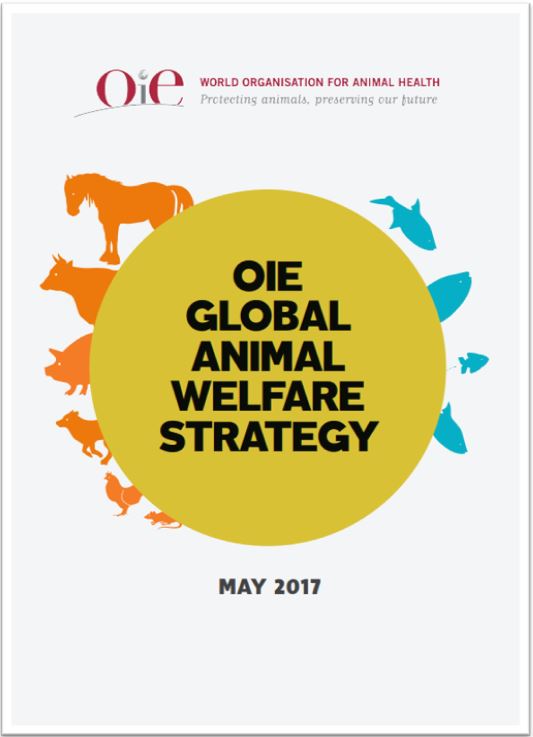 The WOAH Competency-based Training Framework for Animal Welfare is currently under development (Fig.1 [C]), with the production of a scoping document that will guide the development of future WOAH e-modules on this topic. Several e-modules are already in the pipeline, covering subjects such as welfare conditions when reptiles are killed, in pig production systems and during international transport. Several existing e-modules and resources from well-known partners (Fig.1 [D]) will also be reviewed, as well as face-to-face training courses.
For the latter, customised programmes will be developed, based on the results of national PVS evaluations (for example, Critical Competency II.13 is dedicated to animal welfare) and the WOAH Stray Dog Self-Assessment Monitoring tool (Fig.1 [B]), developed to measure Veterinary Services' compliance with Chapter 7.7. Dog population management of the Terrestrial Animal Health Code. Courses at three levels of expertise (from Day 1 to expert level) will be offered to progressively upgrade Veterinary Service capacities for animal welfare. Animal Welfare Focal Points will receive specialised training twice a year, to promote more engagement in the standards-setting process (Fig.1 [E][F]). Several other WOAH initiatives, such as the Observatory, PVS Pathway and Platform for the Training of Veterinary Services, will complement these activities.
| | |
| --- | --- |
| Fig. 2. WOAH Animal Welfare National Focal Point Seminar, Lesotho, 2018. Joint field activity with the International Coalition on Working Equids (ICWE) © World Organisation for Animal Health / L. Stuardo | Fig. 3. WOAH National Animal Welfare Focal Point Seminar, The Netherlands, 2019. Visit of a resting point facility for animal transport. © World Organisation for Animal Health / L. Stuardo |
https://doi.org/10.20506/bull.2023.1.3383