Around the world Posted on 2023-02-27 15:15:30
WOAH actions
Development of the veterinary workforce in Asia and the Pacific
A Virtual Regional Awareness-Raising Workshop on the veterinary workforce and veterinary para-professionals (VPPs) in Asia and the Pacific was held in 2021. The goal was to promote awareness about veterinary workforce development, the role of VPPs in Veterinary Services and the WOAH support available to Members through the PVS Pathway. The workshop's recommendations will help to develop strategic priorities and create action plans to build a more resilient veterinary workforce in the region.
Many World Organisation for Animal Health (WOAH, founded as OIE) Members in the Asia and Pacific region have limited systems in place for veterinary workforce planning. This presents challenges in ensuring that veterinarians and veterinary para-professionals (VPPs) work in an environment that enables them to perform to their full potential. Only 41% of surveyed Members regularly reviewed their human resource needs within the veterinary workforce, and yet 73% indicated a general shortage of personnel in their national Veterinary Services [1].
So what are the elements that make up a positive and enabling environment for veterinarians and VPPs? They include comprehensive legislation on veterinary practice, regulation of the profession (often through a veterinary statutory body), approved and effective competency-based training, and coordination and communication among stakeholders. This will also help to ensure that VPPs – who sometimes make up more than half the veterinary workforce (Fig. 1) and occupy a wide range of roles in animal health and production, veterinary public health and laboratory diagnosis (Fig. 2) – are properly integrated into the workforce.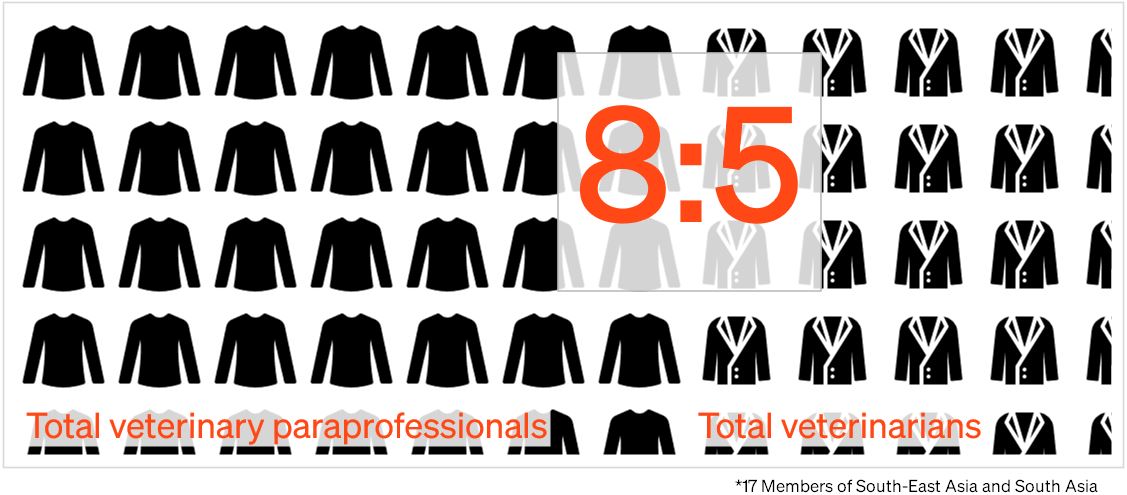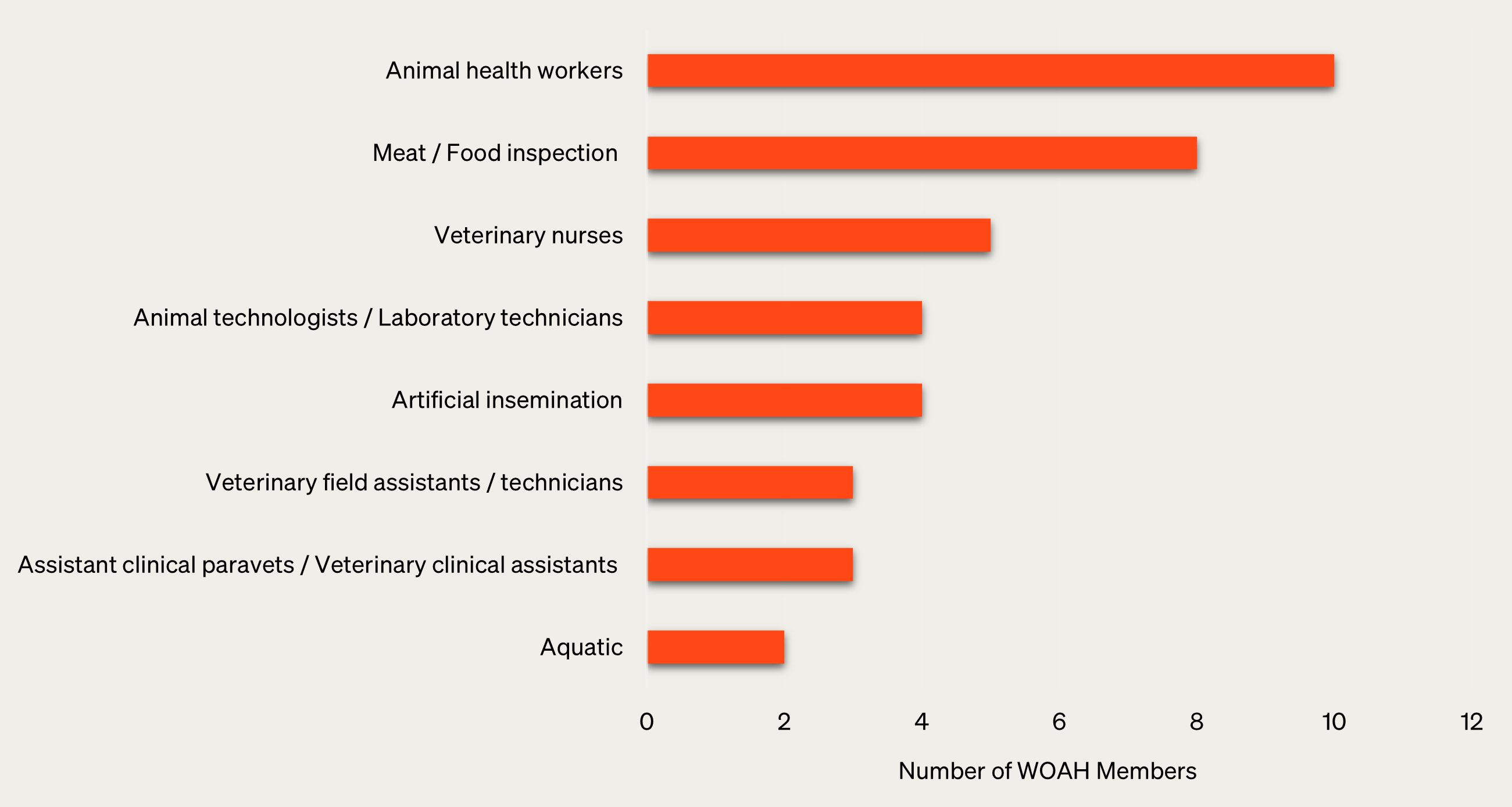 In June–July 2021, a Virtual Regional Awareness-Raising Workshop was held on veterinary workforce development in the Asia−Pacific region, the role of VPPs in Veterinary Services, and the support available to Members through the PVS Pathway. A total of 230 people from 28 Members and organisations took part, and many expressed interest in follow-up activities, such as national workshops on veterinary workforce development, workforce assessment, and VPP curriculum review [2, 3].
'Bhutan is a mountainous country and delivery of veterinary services in remote areas is difficult. So we developed training modules for VPPs and community animal health workers. The WOAH regional workshop raised awareness about various roles that VS play and the need for legislation to promote fruitful engagement of VPPs in a sustainable manner, as well as the need to review the capacity of our VPP training institution. After the workshop, we initiated consultations with national stakeholders and submitted an expression of interest for WOAH support'.

A participant from Bhutan
The recommendations from the workshop will help to support Members' efforts by developing strategic priorities and defining action plans for building a more resilient veterinary workforce [3].
A new video also helps raise awareness of the topic and introduces WOAH's veterinary workforce development programme to interested stakeholders.
https://doi.org/10.20506/bull.2023.1.3387