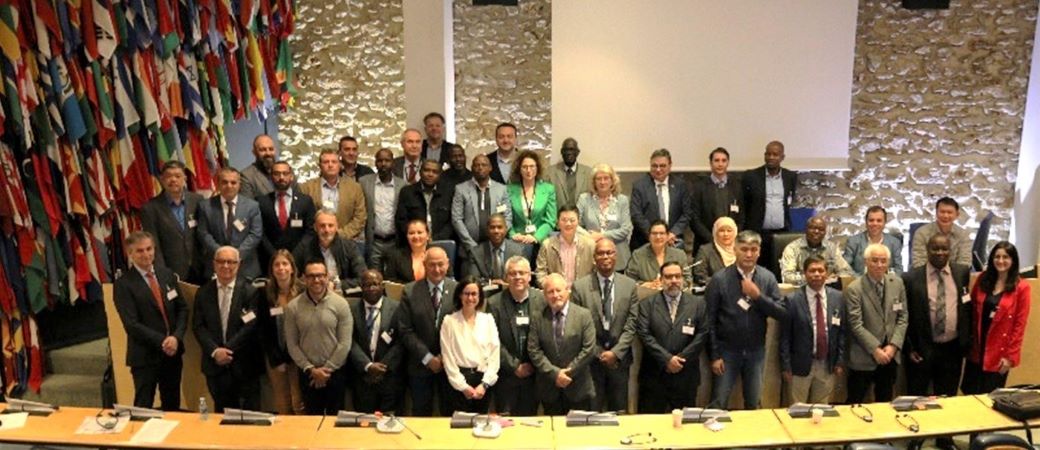 WOAH's

Regional Activities and Capacity Building Department

s

jointly

organised

a

face-to-face workshop for recently appointed Delegates at WOAH Headquarters in Paris

.
This workshop took place the day before the 90th General Session, which was once again held in person after a four–year hiatus due to the COVID-19 pandemic. The aim of the workshop was to help the newly appointed Delegates fully understand their roles by engaging with experienced and knowledgeable speakers.
The workshop allowed new Delegates to discuss their rights and responsibilities, as well as what to expect during the General Session. Prior to the workshop, they completed online eModules covering WOAH's mandates, missions and activities over a period of six weeks through the WOAH Training Portal. Thirty-three new Delegates attended and committed to implement their functions in line with WOAH international standards, recommendations and guidelines. Participants engaged in discussions while facilitators – among them, WOAH President and Deputy Director General of Institutional Affairs and Regional Activities – delivered a wide range of key messages.
Being a Delegate throughout the year
A proposed timeline assisted Delegates in identifying their annual tasks, which are linked to institutional meetings, statutory contributions, disease notification, antimicrobial use, WOAH standard setting, and official status recognition. By sharing experiences and good practices, peer-to-peer learning was enhanced. This increased Delegate awareness of their expected performance and duties throughout the year.
Tutorials on WOAH platforms and portals
Delegates reviewed WOAH's various working tools – the main website, Delegates Portal, the World Animal Health Information System (WAHIS) and Animal Antimicrobial Use (ANIMUSE) platforms – which support Delegates in carrying out their tasks.
Being a Delegate at the General Session
The workshop highlighted the Delegates' key roles at WOAH General Sessions, thus preparing them for the 90th General Session which started the following day. They were encouraged to actively participate in this year's Animal Health Forum on avian influenza and were informed of the importance of reaching quorum and of applying adoption procedures of the technical and administrative resolutions.
Being a Delegate after the General Session
Presented with role-play scenarios, the new Delegates were placed in realistic situations they may encounter once back in their respective countries. These scenarios emphasised financial, managerial and status-related concerns. The activity helped them to better understand the importance of WOAH events – how Members can derive maximum benefit from the Organisation, and how their statutory contributions finance it.
Panel discussion on the value of being a WOAH Delegate and its challenges
The workshop concluded with a panel discussion on the value of being WOAH Delegates, the essential role they play and some of the challenges they may face. Delegates were presented with ways in which they can receive support from WOAH's governing bodies, notably from the Council, Bureau Members and Regional Representatives.
Based on this successful experience, the training for the next cohort of newly appointed Delegates will continue to be enriched with additional modules and webinars and will be open to all Delegates.
Contact: Regional Activities Department (regactivities.dept@woah.org)